Help
With plainVR you can view 360º images and videos in 2D and 3D, but first there are some requirements that will be explained on this page.
Projection resources
plainVR lets you load 2D and 3D resources using an equirectangular projection. This constraint affects the format of the resources that can be displayed: which must have an aspect ratio of 2:1.
Image source: http://blog.dsky.co, http://blog.dsky.co/wp-content/uploads/2015/09/02-VikingVillage_thumb.jpg
On the other hand, 3D equirectangular resources have a 1:1 ratio, the result of joining two 2:1 projections. The top projection will be rendered for the left eye, and bottom projection will be rendered for right eye.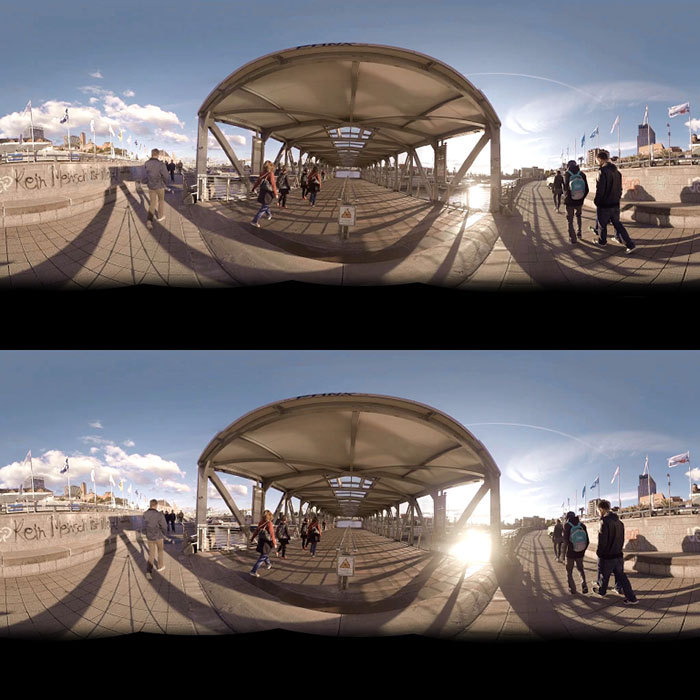 Image source: http://petapixel.com, http://petapixel.com/assets/uploads/2015/11/vrcinemagraph.jpg
You can find some example resources in the next sections.
Image requirements
You can load any image, regardless the dimensions (file length will be limited to 20 MB). To avoid memory problems on some devices, plainVR resamples to a maximum of 2000x1000 pixels for 2D images before loading them into the viewer.
Video requirements
Supported videos depend on the device specifications. If you experience any problems playing videos, it is possible that your device does not support the video format. Check in your device browser.
You can also load Youtube 360 videos in plainVR, just by adding the URL.
Sample resources
Default resources provided as sample data are:
Other samples types: